Health CBD
How To Make Homemade CBD Treats For Dogs
Like you, your furry mates may also appreciate dosing on the occasional tasty treats brimming with flavors, especially when whipped at home with love. A perfect treat can be a fun and healthy choice for your pets that could introduce the right proportion of several critical nutrients. Additionally, it could be an elegant way to embed potent compounds like cannabidiol into your dog's diet to enjoy its impeccable benefits.
So, grab your apron and start prepping homemade treats for your dogs to shower them with your love. But wait? Are you not sure how to make them? Well, don`t worry. Use these simple methods to quickly create perfect CBD-infused dog treats without slogging much in the kitchen.
Preparing To Create Yummy Dog Treats
There are significant advantages to introducing CBD to your pets. The great cannabinoid promises many benefits for your dog's overall health. From caring for their digestive systems to easing anxiety, your pup may feel safe and happy with a small dose of CBD regularly. It is also a better choice for your pet as the compound will not get them high while delivering these benefits.
Why Prepare At Home?
Although you may find CBD dog treats at stores, creating them at home expresses some advantages. Cooking at home offers the liberty to experiment with ingredients and choose the appropriate quality. You understand what your pet likes and needs the most. Now you can work with these ingredients to create custom treats for your furry mates that they will love. It will also help you avoid allergic ingredients and work better with newer flavors and high-quality raw materials.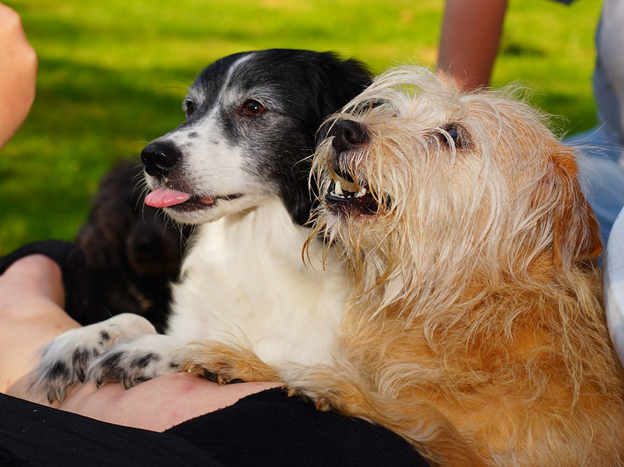 Home treats also offer the edge of dosage. While store-bought treats come in exact dosages per piece, they may not be the ideal level for your dog. At home, you can create treats with the precise dosage requirements to know your pet is well cared for.
Baked Treats
Baking fantastic treats for your pooch can be exciting. Try this healthy snack loaded with exceptional ingredients like peanut butter, CBD, and blueberries that make it super tasty and super, super nutritious for your pet.
What You Need
1/4 cup frozen blueberries
1/4 cup organic peanut butter (No added salt or sweetener)
1/2 cup ripe banana
1/2 cup organic flour
1/2 teaspoon vanilla
2 tablespoons CBD oil

How To Prepare
1. Preheat the oven to 300 degrees Fahrenheit
2. Add the peanut butter, flour, and vanilla to a bowl and whisk thoroughly.
3. Mix the blueberries and mashed banana and blend into a thick paste in a food processor.
4. Add the CBD oil and blend.
5. Roll the dough on cookie sheets and use a cookie cutter to divide it into small pieces. Separate them on the same sheet and bake for about 30 minutes.
6. Remove and let it cool. Transfer to an airtight jar and refrigerate to preserve.
No Bake Treats
Another fun way to create a lovely treat for your pet could be to skip the elaborate baking ritual and prepare delicious treats with pumpkin and cinnamon. It is the perfect choice to go with CBD oil which can enhance the anti-inflammatory and antioxidant benefits together.
What You Need
1/4 teaspoon cinnamon powder
1/2 cup organic coconut flour
1 tablespoon coconut oil
3/4 cups pumpkin, pureed
1 tablespoon CBD oil
1/2 cup rolled oats
How To Prepare
1. Mix CBD oil and coconut oil in a small bowl and set aside.
2. Add the pureed pumpkin to a large bowl and add cinnamon powder and oil.
3. Slowly pour the coconut flour over the pumpkin and keep stirring. Make sure the dough is still slightly sticky, and stop adding the oil to the mixture further at this point.
4. Mix to create a smooth dough and split it into small pieces. Roll each piece over the oats and arrange it on a cookie sheet.
5. Refrigerate the sheet till the treat sets and transfer to an airtight jar.
Frozen Treats
Another charming no-bake recipe, this drool-worthy yogurt treat brimming with the goodness of sweet potato is mind-blowing. It will be the perfect way to introduce the proper CBD dosage for your dog to enjoy during warm summer days.
What You Need
1/2 cup plain yogurt
1 tablespoon coconut oil
1 tablespoon CBD oil
1 cup sweet potato, cooked and mashed
1/2 teaspoon turmeric powder
How To Prepare
1. Add the CBD oil and coconut oil to a small container and mix thoroughly.
2. Add the sweet potato, turmeric, and yogurt to a large bowl and mash it well.
3. Add more yogurt to create a smooth mixture. Pour the oil mixture into the bowl and blend thoroughly.
4. Pour the mixture into silicone trays and freeze for at least three hours.
5. Remove and transfer to an airtight container. Refrigerate for a couple of weeks to use whenever.
Add To Ready-Made Treats
Yet another simple way to introduce CBD treats to your pets would be to infuse the cannabidiol into existing store-bought treats. But you need to keep two essential things in mind here. Choose porous treats or anything with small holes in them as they best absorb the oil when you soak them. Also, choose premium treats to ensure the ingredient quality used during preparation.
Conclusion
Showering treats on your dog can be fun, especially leaving them feeling happy, energetic, and well nourished. And with active ingredients like CBD present, these treats can be a way of providing the perfect dose of cannabinoids to your pup to enjoy its unparalleled benefits to mind and body.