Fashion
The best swimsuits for curvy women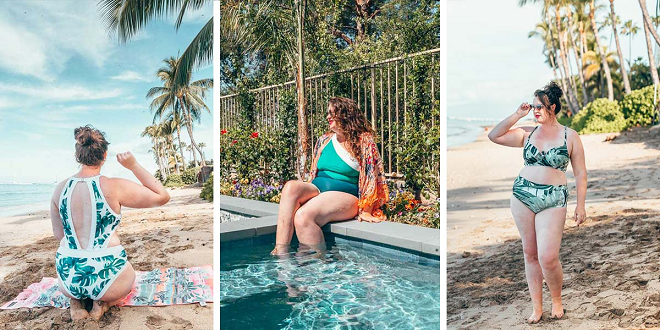 One size fits all is a misbelief, especially in the case of swimsuits. A fabulous bikini on your best friend might not look that flattering on you. Most women strive to attain a perfect beach body as summer approaches, but they forget with a sexy body, one also needs a flattering curvy swimsuit that will plays up your good features and hide the features that you think are disfigured. That said, swimsuit shopping is a nightmare for curvy women, as there are so many different styles, cuts, colours, and patterns of swimsuits that it often leaves women confused in choosing swimwear that will not make their body look big or out of proportion.
Feel good look good is the latest buzzword in the fashion world! When buying a swimsuit for yourself, you need to keep the rule of thumb in mind: comfort first with fashion and trends featuring second in the list of priorities. To give you a nudge in the right direction, here is a guide on picking the best swimwear for a curvy woman. Continue reading!
For women with a fuller bust
If you are a woman with full breasts, you need similar support as that of your everyday bra. Therefore, halter tops or moulded underwire cups are the most suitable for fuller bust ladies, as they help keep your assets in place. An additional strap across the back along the bust line for extra support is also great. Alternatively, you can go for a suit or two-piece that features one colour on the top and another on the bottom with some lovely detailing that enhances your bottom part. This will give your body a more proportional look.
For women with a fuller bottom
For women with curvy bottoms, the skirtini is the best swimsuit option! Choose a smooth, slimming skirtini; you can choose any length- short or mini so that it covers just what you want it to. If you like ruffles or an extra fabric look, choose a skirted bikini with a ruffled top that will draw attention to your bust rather than your hips or buttocks area. Also, there are super cute, fashionable, one-piece swim dresses for plus-size women that offer you coverage in the places where most curvy women like you want. The last piece of advice for you is to go for diagonal prints and bright colours that are a nice treat to the eyes.
For women with a large tummy
For the woman with a large belly, a one-piece swimsuit is a way to create the just-right kind of impression. Or you can also try 'mock' two-piece swimsuits that actually look like tankinis or skirtinis but still offer total midriff coverage. Halter swimsuits, too, are a great bet in hiding your belly and creating an elongation effect. These types of swimwear are also a great option if you have scars or stretch marks on your thighs, bellies, or breasts, as they are available in a wide variety of designs, lengths, and optional coverups.
For women with plus-size
Many plus-size women think they can never wear a swimsuit, but this is not true. It is difficult to find the right kind of swimwear for women like you, but it is not impossible. With the right type of swimsuit, full-figured women can also look beautiful and beach-ready. One-piece bandeau will do wonders for a full-figure lady. You should go for a swimsuit that allows you to mix and match as this helps create an impression of well-defined curves. A curvy swimsuit with horizontal stripes is a big NO for plus-size women.
After going through this article, you probably understood which type of swimsuit would be the best pick for you. So now you are all set to look sexy and glamorous yet comfortable while taking a plunge into the pool or by the beachside this season.