Fashion
Why You Should Make a Statement With a Diamond Bracelet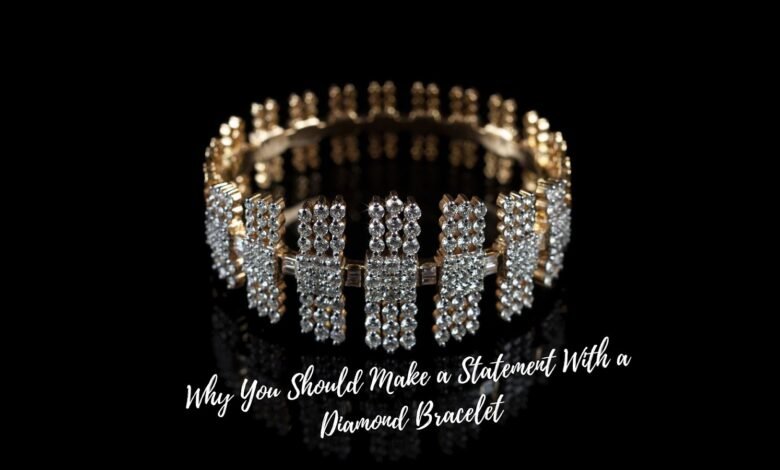 Making a statement with clothing and accessories has been prevalent throughout history.
So are you looking for a way to make a statement with your clothing and accessories? A big, bold, unmistakable statement. Do you want something that will get everyone's attention and make them take notice?
Well, we've got just the thing: a diamond bracelet.
That's right. A diamond bracelet is a perfect way to make a statement. It's sophisticated and elegant, and it will let everyone know that you're someone special. Plus, it's the perfect accessory for any outfit.
Whether wearing a little black dress or a power suit, a diamond bracelet adds a touch of luxury that takes your outfit from ordinary to extraordinary. And who doesn't love feeling a little bit fabulous?
A diamond bracelet is an ideal way to express yourself, and a diamond bracelet is a perfect way to add some sparkle to your outfit, and it can be dressed up or down to suit any occasion.
So what are you waiting for?
Diamonds Are Forever
In addition to your attire, accessories are powerful tools that can reflect your style and personality in subtle, yet powerful ways. A Statement diamond bracelet can be an eye-catching and timeless piece that can blend well with both a work outfit and party wear! When you make a statement with a diamond bracelet, you declare that you're a person of luxury and demand the very best. You're also telling the world that you appreciate the finer things in life.
Diamonds are adaptable and can be used to dress up or down to suit any occasion. Whether attending a black-tie event or running errands around town, a diamond bracelet will always make you feel like a million bucks.
Different Types of Bracelet Settings
When it comes to statement diamond bracelets, there are three main types of settings to choose from
The first setting is the prong setting. This setting is the oldest and most popular way of setting diamonds. In a prong setting, the diamond is set on four or six sleek metal claws that rise from the gold or platinum band. This type of setting is most famous for round diamonds.
The second type of setting is the channel setting. In a channel setting, the diamonds are set in a straight line next to each other in a metal channel. This type of setting is most famous for square and rectangular diamonds.
The third type of setting is the bezel setting. In a bezel setting, the diamond is surrounded by a metal rim that wraps around the diamond. This type of setting is most famous for oval and marquise diamonds.
Variations in Bracelet Styles
Statement bracelets come in all shapes and sizes. Whether you prefer a delicate gold chain or a chunky cuff, there's a style that perfectly reflects your personality.
Still, trying to figure out where to start? Here are a few tips:
If you want to make a bold statement, go for a big, chunky bracelet.
If you want to keep it simple, choose a thin gold chain or a delicate bracelet.
If you are feeling daring, try a bright and colorful bracelet for an eye-catching effect.
If you want to mix and match, go for various styles and textures.
Whatever design you pick, make certain the bracelet speaks to your style and expresses who you are as a person.
Choose the Right Carat for Your Bracelet
It's time to choose the right carat for your bracelet. This is where things get a little tricky because the carat weight will affect the price of your bracelet.
Remember that the larger the carat weight, the rarer and more expensive the bracelet will be. So, choosing a carat weight proportional to your wrist size would be best.
If you have a small wrist, then you'll want to choose a bracelet with smaller diamonds with a lesser carat. And if you have a larger wrist, you'll want to choose a bracelet with a larger carat weight.
Remember that the carat weight will also affect the size of the diamonds on your bracelet. So, if you decide to go big, then you need larger diamonds in your jewelry. If you want to cut back on the sparkle, you must find a diamond tennis bracelet with smaller diamonds.
Find the Right Diamond Bracelet for You
When searching for a diamond bracelet, there are a few things to bear in mind. First and foremost, what is your financial situation? Diamond bracelets for women can cost anything from a few hundred to several thousand dollars, so it's essential to know how much you want to spend before shopping.
Next, what is your style? Do you prefer simple and elegant pieces or jewelry that make more of a statement? Diamond bracelets are available in various types, so choosing one that reflects your personal taste is important.
Then, on what occasion will you wear the bracelet? Are you looking for something to wear daily or a unique piece for a formal event? Remember the experience when choosing a diamond bracelet, as some styles are more appropriate for certain events than others.
Finally, do you care about the diamonds' past? The recent generations are increasingly becoming aware of the detrimental effects of mining other processes involved in acquiring mined diamonds. Hence, the young generations prefer to choose lab-grown diamonds instead of mined diamonds. This means a lab-grown diamond tennis bracelet will be ethically-sourced, have a conflict-free origin, and additionally can also save you some money on the purchase.
Keep these things in mind, and you're sure to find the perfect diamond bracelet to make a unique statement.
Conclusion
You work incredibly hard for your money, so spend it on things that add are worth your money. A diamond bracelet will make a statement and let everyone know that you're successful, and you know it.
Plus, a diamond bracelet is a perfect accessory for any outfit. Choose a bracelet with more substantial stones and a bolder setting for a night out on the town. Opt for a bracelet with smaller rocks or a single diamond for a more casual look.
No matter your style, there's a diamond bracelet that perfectly complements your look. So why not make a statement with a diamond bracelet today?