Life Style
Surprise Birthday Celebrations for Best Friends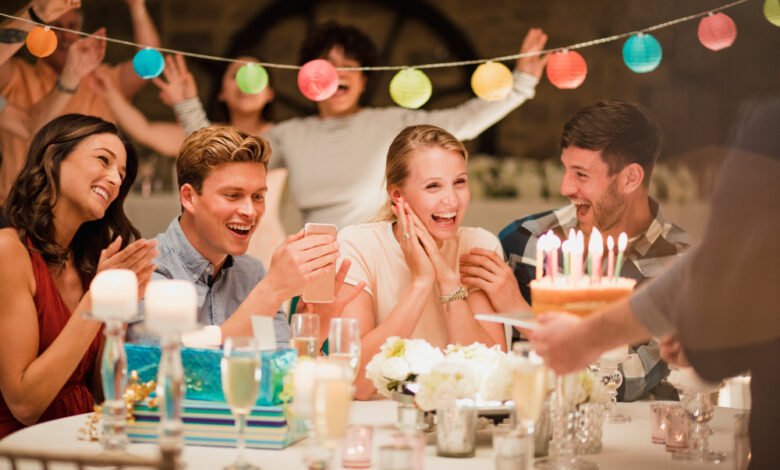 Birthdays are one of the most memorable and lovely days of one's life! We all get excited and feel happy about another year of hard work, beautiful days, hard and easy lessons and everything. We feel grateful for all the love our people shower on us and how blessed we are to have the most amazing people in our lives.
So if it is your best friend's birthday, you must make this day the most memorable and fun for them. Surprise them with unique treats, gifts, and nostalgia, and make it an unforgettable day of their life.
Below we list some of the most fun and amazing surprises for your best friend's birthday and bring the most exciting laughter, heartwarming smiles, and tears of happiness to their face.
1.) Cook For Your Best Friend:
Make the best birthday surprise for your best friend by inviting them to your place and cooking a delicious and complete meal. We are sure they are going to love it! You can decide the menu according to what they love. You can invite your other friends and have the best group lunch or dinner on their birthday. Have the most fun, lovely, and happy conversations on the table with your person and make the most memorable time. Remember to bake a delicious cake for them. Desserts are also a must-have! Cook/Bake the most delicious sweet treats and make it the happiest birthday!
2.) Go Bowling and Pizza:
Bowling will be one of the most amazing and lovely ideas. Take your best friend to their favorite place on a bowling and pizza date. We are sure this will make their day the most enjoyable.
You can also invite all your other friends to make the happiness go many folds.
3.) Surprise Lunch At Work:
We know it is your best friend's birthday, and you cannot keep calm! So to make it the most beautiful surprise for them, get to their workplace unannounced with their favorite food and make it an unforgettable event. You can also drive them to their favorite restaurant and cafe in the town for a surprise lunch party.
4.) Send a Beautiful Letter and a Plant:
This is one of the loveliest and most heartwarming ideas. We are sure they are going to love and cherish this idea. Post a beautiful handwritten letter to them, expressing how much you love them, how they have been the most lovely human of your life, and how grateful you are to have them in your life. Along with this, send a beautiful plant and make it the most thoughtful and lovely present. We are sure this precious gift will always be remembered and cherished.
You can get the plants from a plant nursery in your city. It is very easy to find plant nursery in chennai, Delhi, Gurgaon, and many-many other cities of the country. There are so many plants that can bring so much positivity, happiness, and good luck to their place. Do the research and get your best friend the best of all!
5.) Surprise Them With Your Group of Old Friends:
Has it been a long since you caught up with all your friends? Your best friend's birthday could be the right day for it. Call your old school, college, or neighborhood friends and ring your best friend's doorbell at twelve with cakes, gifts, and drinks! Make it the happiest and loneliest day of their life with a fantastic gift. We are sure this surprise event will be everyone's favorite day!
6.) Organize a Surprise Birthday Party:
Organize a surprise birthday party for your best friend on their birthday. Make them feel most memorable and loved by inviting their close people. Plan this idea in advance and send the invitation so people can plan accordingly. You can also organize this party in the mountains or on beaches if these destinations are where your best friend's heart belongs. We are sure this is one of the craziest and heartwarming parties for them.
7.) Go To Their Place:
If your best friend lives far from your place, show up to their place this birthday and make them the happiest on this planet. We are sure they will treasure this day for a lifetime. Plan the day a little in advance and take them out for a long drive or stay in for a crazy movie time at their place.
Birthdays are the most beautiful days of our lives, and they indeed bring us so much joy. Make sure you give your best friend the best surprise on their birthday.