Education
A Complete Guide to Online MBA program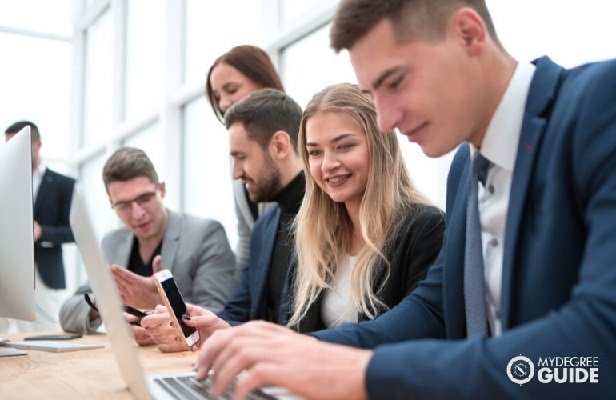 It is common knowledge that an MBA advances your industry career like no other degree. As the name suggests, a Master's degree in Business Administration gives you a holistic overview of business administration, with concepts such as project management, corporate finance, business law, supply chain management, marketing research, and so on. Simultaneously, it fosters leadership skills and builds your professional network.
Who should take up an online MBA?
An online MBA program offers several benefits without limiting you to a regular commute to an institute for physical classroom lectures and assessments. In an online MBA program, you watch recorded classes, study online notes, and complete and submit online assignments in a fixed period. It also offers a real-time platform to interact with your peers and professors. It is best suited for working professionals who want to enrich their understanding of business administration without taking time off their careers. 
Get the best MBA teaching, by your best teacher online through the Joinpd the platform designed for online classes.
Online MBA vs. Regular MBA vs. Distance MBA
It is an intelligent strategy to weigh all your options when making a decision. In this case, the other options besides an online MBA are enrolling in a regular two-year MBA program or applying for a distance MBA. It makes little or no sense for working professionals to take a two-year break from their hard-earned job to study when they can easily pursue the same subjects alongside their professional commitments. A distance MBA does not warrant the same amount of obligation.
However, candidates need to attend some part of the distance course in face-to-face interaction. Additionally, a distance MBA does not offer the option to connect with professors regularly like in a regular MBA program. An online MBA overcomes this difficulty by offering timely consultations with professors for query resolutions. On the whole, an online MBA program combines the benefits of the other two programs and delivers the best deal.
Why get an Online MBA?
Online MBA is beneficial for a variety of reasons. It does not necessitate a commute and is less expensive than a regular or a distance MBA.
Flexibility
Many online MBA programs have synchronous (a set class period or learning sessions) and asynchronous (self-paced learning) components. This gives the candidates the flexibility to approach the learning material in their own time and pace. An additional benefit of online learning is that it forces the participants to inculcate self-discipline and manage time to finish assignments within a stipulated time.
Technological advancement
Most institutes offering an online MBA program use an LMS (Learning Management Software) and other cutting–edge education tools. Harappa uses a best-in-class learning system for its online accelerated management program in India. You will be compelled to use technology as you participate in the program. This knowledge of technology can successfully be translated into your ease of doing business as well.
Diversity
Because of its unique design, an online MBA program is accessible to professionals from every sphere of the working industry. This allows you to interact and work with the best people in the industry. You not only learn alongside them but also learn from them, as all candidates participate in regular discussions during the MBA program.
Industry professionals and teaching material
Unlike other traditional programs, an online MBA program gives you access to leading industry professionals as your professors and mentors. The teaching material curated by these professionals is also superlative as they bring hands-on knowledge and business management experience from their sector. The teaching material includes audio-visual media and texts, as the importance of reading is indisputable.
How to apply for an online MBA
Registering for an MBA is simple and similar to applying for any other regular course. The first step is to create a list of institutes that offer an online MBA program. As UGC has approved online MBA programs, many universities and institutes offer this program in India. Online learning platforms such as Harappa also offer their services in this domain. Institutes also provide specializations in various fields.
Age is no criterion for applying for an online MBA. However, it does require a minimum of 50% marks in graduation. Most institutes accept valid scores for MBA entrance exams, whereas others conduct their entrance examinations.
Coursework in an online MBA program
In the syllabus of an online MBA program, each class is divided into smaller modules. Each module contains a video and a text explaining the basic concepts. A synchronous time is also set for the participants to engage with the professors in real time. To access the next module in the curriculum, it is mandatory to finish the assessment at the end of the first module. An open query page accompanies the modules that all the participants and professors can access. Here, all the participants can ask questions about the material or the assessment. After finishing all the module assessments, participants are invited to submit one final assignment or test covering all the concepts taught in the course. The professors can obtain feedback on their teaching techniques. The Harappa school of Leadership embraces these microteaching methodologies to bridge the learning gap between teachers and learners.
What to expect after completing an MBA online?
Like a regular MBA course, this degree also increases your employability. As a working professional, the skills learned in this program are very important as they can be transferred to any organizational role and add value to your long-term plans as a leader. Unlike the pre-technology age, the financial benefits of pursuing an MBA also extend to the online MBA program. A US News survey in 2017 showed that professionals' average salary increased by 22 percent after obtaining an online MBA degree.
The chances of getting a promotion in your own company or moving to a better role in another organization drastically improve after obtaining an online MBA degree. Companies also motivate their employees to pursue this degree as they understand the value it adds to their work. As there are significant advantages to pursuing an online MBA, it is essential to do it from a trusted source. Harappa School of Leadership offers an immersive management program for young working professionals. You can read more about this program on their website.