Fashion
Hippie Costume: Ideas, Looks, Creative, Images
How is it that one minute you're sipping beverages poolside in the summer heat and the next minute you're searching for inspiration for pumpkin carving, watching the finest films, and frantically trying to come up with a last-minute costume for yourself? May we propose going back in time and letting your inner flower kid shine in a hippie costume if you'd wish to be ahead of the costume-choosing race for once?
It's not just a fun theme to wear; you can pull it off simply using pieces that are probably already in your wardrobe. What happens if you decide to wait until the very end despite your best efforts? You can do it with little effort and supplies.
Let's Talk About Shirts That You Can Wear To Go With A Hippie Costume
Where hippie outfits start to get a little exciting are the shirts. Consider a basic white shirt with flowy sleeves, or simply a basic white long sleeve shirt, if you want to opt for a more casual, uncomplicated appearance. You can dress this up however you like with buttons and peace signs. Pick a shirt with a wacky pattern if you'd like your hippy to appear a bit more psychedelic!Back in the day, wide or flowing sleeves as well as paisley patterns on clothing were quite trendy. Try layering a vest on top of your shirt to further enhance your costume, particularly a frayed leather and even suede vest.
Not To Forget The Pants: Hippie Costume
Hippies' pants can be as imaginative and entertaining as their blouse! Hippie pants in the current fashion trend tend to have flared legs. You can select the color that best matches your costume and skin tone. These typically come in brown, but occasionally they also come in denim color or in bright colors and designs. Even the flares of some flared hippie trousers can be decorated with colorful inlays, fringing, or belts made of braided leather or suede.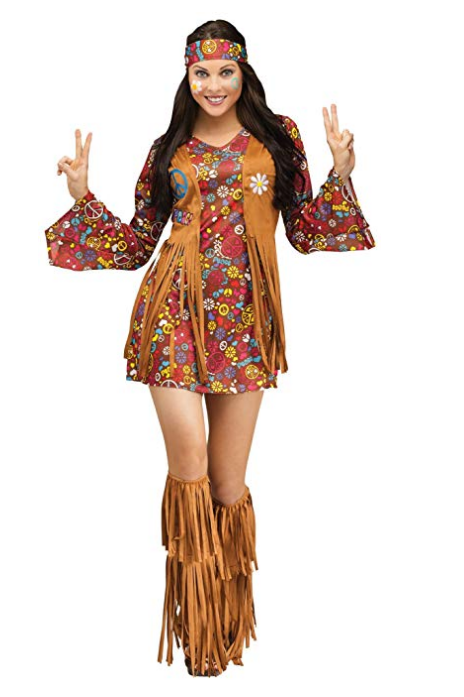 Accessories For Hippie Cosplay – Jewelry To Make It More Interesting: Hippie Costume
Hippies enjoyed wearing a lot of jewelry, both sexes. If you have a jewelry collection, look for lengthy beads, macramé jewelry, and pendants. If not, try a used jewelry shop. In a costume supply store, you might be able to buy a cheap peace sign pendant or another hippie symbol pendant. If not, create your own using the same method as the pins, however instead of pinning it with a safety pin, poke a hole at the top and hang it from a lengthy, robust piece of string.
Compelling Pins
DIY hippie pins are available. Print off a few of the results of favorite phrases or signs of hippie in the right size, ideally on card stock, then cut them out. Laminate your pins if at all possible. Glue them to a cardboard piece & cover with transparent contact paper if you don't have accessibility to a laminator. Then just attach a pin to the backside with tape. You may always buy a personalized enamel pin if you don't want to build your own.
Also read: Sana Sayyad | Arista Mehta | Fanni Gecsek