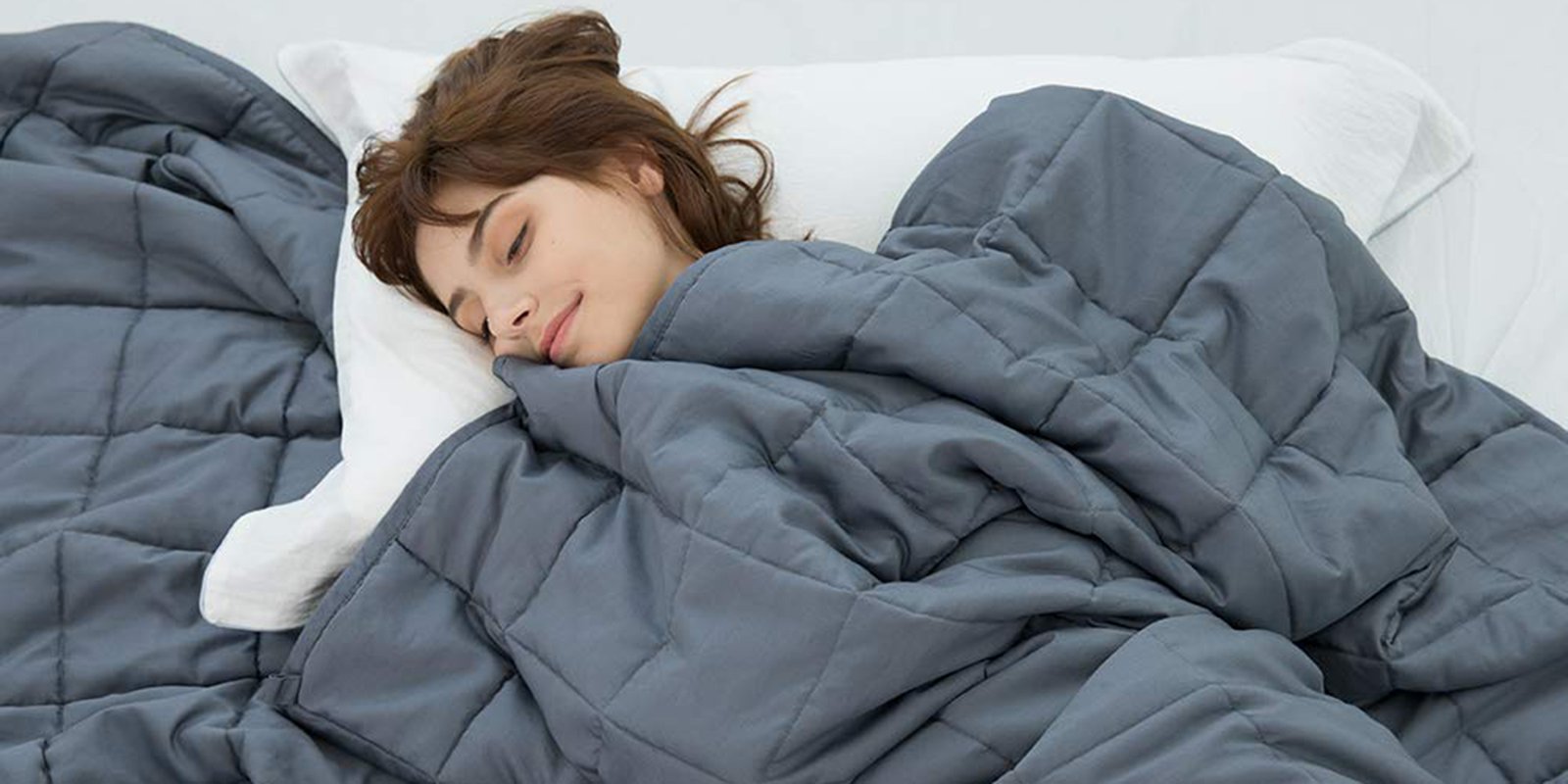 Weighted blankets are different from your regular, everyday blankets. They serve as great stress and anxiety relievers and help the user sleep. Due to the dual purpose function they serve, it is without a doubt that weighted blankets have come to stay. Who doesn't want to enjoy a long night of stress-free sleep?
CHOOSING THE RIGHT BLANKETS
Weighted blankets have objects ranging from plastic pellets, glass beads, or ball bearings that make them weightier than regular duvet or blankets. They weigh between 5 to 30 pounds and cost between $100 and $300 for any size. To choose the best weighted blanket, you need to identify your needs and what your preferences are. Selecting the best weighted blanket that suits your needs can be a herculean task but we've decided to help make things easy for you by highlighting what makes the best weighted blankets the best.
Weight of the blanket should be about 10 percent of your body weight.
Cover materials should be breathable.
Cover materials should be made of cotton, micro fibre material, or fleece that gives it a smooth feel, cozy and plush texture.
High-quality materials and pellets that do not wear or break due to washing.
In a nutshell, in choosing the best weighted blanket, pay attention to how light or heavy it is. Also consider the costs, sizes, colors, and most importantly, if it is returnable if you are not pleased with it after first use.
CARING FOR YOUR WEIGHTED BLANKETS
There is confusion about the best caring practices for weighted blankets. While a lot of people argue you shouldn't wash weighted blankets, others are confused about how to wash weighted blankets with glass beads without ruining them. The truth is that if you are going to spend a lot of time beneath the covers of your weighted blanket, it is mandatory to include caring for them as part of your hygiene routine. The problem is that unlike other kinds of blankets, you can't simply throw in the weighted blanket in the washing machine. Even the best weighted blankets deserve to be cared for in the right way if you want to preserve their lifespan, and a way to do so is to adhere to washing instructions.
Due to their wash-friendly nature, weighted blankets with glass beads are one of the best weighted blankets. They are easy to wash and you don't have to worry about the glass beads getting dented in the process of washing. The glass beads don't melt even when you wash at a higher temperature and they don't cluster or shrink together when you set it out to dry.
To ease your confusion on how to wash weighted blankets with glass beads,
Avoid washing with hot water, simply wash in warm water cycles anytime you wash.
Wash only when necessary. When it is stained, dusty, or has begun to stink. This is to maintain the perfect weight distribution.
The best weighted blankets will be damaged if ironed, dry cleaned, or tumble dry. Avoid it.
Do not wash weighted blankets with glass beads with harsh cleaning chemicals such as chlorine bleach, vinegar, and fabric softener.
The guidelines above, if adhered to, can help you preserve the lifespan of your weighted blanket and still help you get the best return out of your soothing weighted blanket.